FIRST Robotics Competition
2012 Game - Rebound Rumble
Rebound Rumble℠ is played by two competing Alliances on a flat, 27 x 54 foot field. Each Alliance consists of three robots. They compete to score as many basketballs into their hoops as they can during a 2 minute and 15 second match. The higher the hoop in which the basketball is scored, the more points the Alliance receives.
The match begins with a 15-second Hybrid Period in which robots operate independently of driver inputs. During this Hybrid Period, one robot on each Alliance may be controlled using a Microsoft Kinect. Baskets scored during this period are worth extra points. For the remainder of the match, drivers control robots and try to maximize their Alliance score by scoring as many baskets as possible.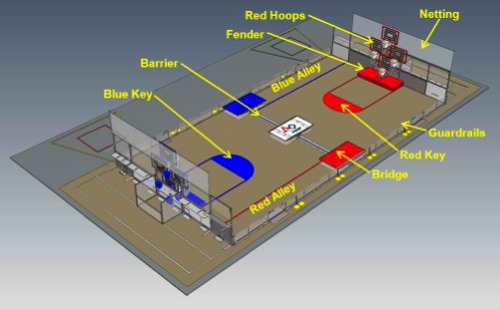 The
FIRST
Robotics Competition
(FRC) is known as "the varsity sport of the mind". It is the most intense of the
FIRST
programs, requiring students to build and program robots under strict rules, limited resources, and specific time limits. These robots are required to perform certain tasks while competing against other robots from different teams.